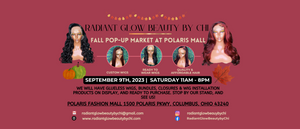 WELCOME TO RADIANT GLOW BEAUTY BY CHI ONLINE WIG STORE
We have sourced the best grade hairs from all over the world. Our wigs are made with Raw Virgin hairs of Grade 10A or higher. Be rest assured that with Radiant Glow Beauty Hair, you are getting the best quality in the market, at the best price and shipped as quickly as possible.
Our goal is to provide our customers with Customized and Ready to Ship Wigs.
Thank you for your Business!